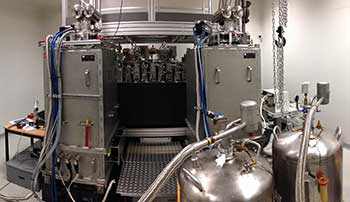 MATISSE (Multi-AperTure mid-Infrared SpectroScopic Experiment) is the mid-infrared instrument of the VLTI. It will produce the sharpest images of planet-forming regions in infant stellar systems, central regions of active galaxies, and close environment of massive stars.
MATISSE consists in an interferometer, combining four of the VLT telescopes, together with a spectrometer, working between 3 and 13 microns. It will produce images at an unprecedented resolution of a few thousandth of an arc-second.
The instrument was built by a consortium of 52 people across 6 countries (France, Germany, the Netherlands, Austria, Hungary, Poland). It is currently being installed in Paranal, Chile, and is expected to be open to the scientific community in 2019.
---
Details
At the same time as the Paranal experts are unboxing and mounting the MATISSE instrument, interferometry experts from the consortium follow an internal formation to all the MATISSE commissionning tools in Nice, that will serve to validate the instrument behavior and performances.
{imageshow sl=16 sc=14 w=600 /}