After a dense week, which included the repatriation from Chile of one of us injuried at his knees, now safe and recovering at home, you will find hereafter a report from Lotti -Lieselotte Jochum-, describing the huge work achieved by the Paranal people.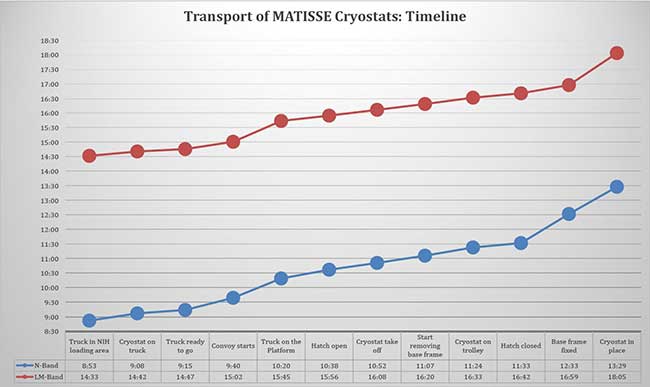 " Dear all,
After an unexpected delay of 4 days in installing the N-band and LM-band electronic cabinets in the CCL, which was caused by heavy winds, we could finally proceed with the transport of the MATISSE cryostats on December 6. Despite a reduced team, because of 1 sick leave and parallel work on the (by wind) delayed cabling of the electronic cabinets, everything went smooth. Reinaldo Donoso and Juan Pablo Henriquez, supported by Eduardo Tapia from Mecatronica, demonstrated once more the art of handling sensitive equipment with excellence. A big big THANK YOU!!!, also to the support from safety, SQA and MSE.
Once the transport was done and the VLTI hatch closed, the MATISSE team had still to do the installation in the VLTI lab, and after a long working day, which had started with the team briefing at 8:15 in the morning, both cryostats were safely mounted at their final destination in The VLTI lab just after 6pm. In the attachment a view on the timeline recorded.
Even though the mountain team is still very busy to cope with the daily ups and downs of an AIV process, the wind induced delay on top of it, and many being here since more than a month, everybody should take a few moments to stop and be really proud of what has been achieved so far.
Congratulations!! This is not small stuff. And all the best for what is out there to come.
Regards,
Lotti "